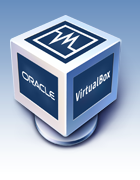 Wah... akhrinya yang saya nanti muncul juga.. Virtualbox telah merilis versi terbarunya.
Maklum.. bagi saya aplikasi yg satu ini serasa wajib banget untuk di install di mesin ubuntu saya.
Berikut ini changelog virtualbox versi 4.0.10 ini :
VirtualBox 4.0.10 (released 2011-06-27)
This is a maintenance release. The following items were fixed and/or added:
GUI: fixed disappearing settings widgets on KDE hosts (bug #6809)
Storage: fixed hang under rare circumstances with flat VMDK images
Storage: a saved VM could not be restored under certain circumstances after the host kernel was updated (bug #8983)
Storage: refuse to create a medium with an invalid variant (for example Split2G with VDI; bug #7227)
Snapshots: none of the hard disk attachments must be attached to another VM in normal mode when creating a snapshot
USB: fixed occasional VM hangs with SMP guests (bug #4580)
USB: proper device detection on RHEL/OEL/CentOS 5 guests (partial fix for bug #8978)
ACPI: force the ACPI timer to return monotonic values for improve behavior with SMP Linux guests (bug #8511 and others)
RDP: fixed screen corruption under rare circumstances (bug #8977)
rdesktop-vrdp: updated to version 1.7.0
OVF: under rare circumstances some data at the end of a VMDK file was not written during export
Mac OS X hosts: Lion fixes (bug #8903)
Mac OS X hosts: GNOME 3 fix
Linux hosts: fixed VT-x detection on Linux 3.0 hosts (bug #9071)
Linux hosts: fixed Python 2.7 bindings in the universal Linux binaries
Windows hosts: fixed leak of thread and process handles
Windows Additions: fixed bug when determining the extended version of the Guest Additions (4.0.8 regression; bug #8948)
Solaris Additions: fixed installation to 64-bit Solaris 10u9 guests (4.0.8 regression)
Linux Additions: RHEL6.1/OL6.1 compile fix
Linux Additions: fixed a memory leak during VBoxManage guestcontrol execute (bug #9068)
Nah.. penasaran kan... ayo di download saja.. dibawah ini link nya..
Virtualbox 4.0.10 Download